In my iPod: Stick with Me Baby - R.Plant & A.Krauss
[download]
State of mind: Polluted
Location: Star Bucks, East Coast Mall
To me there isn't anything lame about country music, however I wouldn't wanna be could dead listening to Carrie Underwood or Garth Brooks. Alright the fact is that I have nothing against nice ol' cowfolks or their queer habit of wearing checkered shirt, jeans and boots with their ten gallon hat going all "BooYa" and "YeeHaa". I don't question their sexuality when it comes to driving 4 x 4 pickup trucks and making out with their own sister at the back of it, or even having homosexual sex-cape in camp fires with other cowboys; it's alright with me as long as I don't get to see them in action. It is their prerogative and I am totally cool with it. There is nothing they can do that would make me lose respect for them except maybe for the stench of manure that is emanating from their body courtesy of shoveling crap in the ranch all day.
So you see I am totally cool with the country shit but I am just so not digging into the country music vibe. It is just so not me, cause I am a fucking hard rocking metal grinding rocker that fucking rocks hard and that is how I fucking roll.
*Sigh…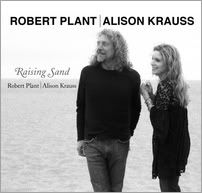 But something has change and I fucking hate to admit this. Every damn time I listen to a really good country song, I get all John Denver about it and it gets stuck in my head. I just couldn't stop listening to it all day long. And it will stay playing on my iTunes, iPod, in my car, in my head… until another good song comes along and save me from it. It all started with Trace Adkins' "You gonna Miss This". I was so hooked to that song that I think I must have spread the disease to Jakarta because Cenni was plagued with that song too. And now I am stuck with Robert Plant and Alison Krauss' "Stick with You Baby". (Their CD Raising Sand is da bomb, if you like rap, this CD is like a hundred times better than all the Nigga crap put together, even though it is in the folk rock and country genre but I think you get what I mean when I say it's 100 times better than rap music.)
You know what, I think I might be of cowboy ancestry or I might have lived my previous life as a gun slinger in the Wild Wild West because there is definitely some redneck hillbilly cow-blood in me that just can't resist fucking country music.
Anyhow, it was "Make Tzyy Ling Her Tom Yum" day and after a day of scouting and hunting for all the ingredients with the song "stick with you baby" playing in my iPod; it was time to hit the kitchen. So I place the track "stick with you baby" on repeat and started working on that Tom Yum. It was my first time doing Tom Yum and I never really thought that it would be that easy. It was basically just dumping all the ingredients into a pot accordingly and wait for a certain amount of time before you dish out and served. Tzyy Ling's Tom Yum turned out pretty alright and I hope she'll likes it and would be able to follow the recipe that I posted in the xniquet-wiki.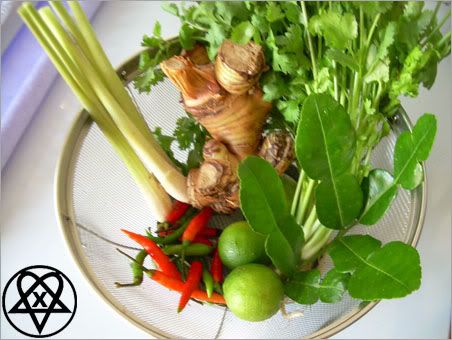 I don't know if any of you have this peculiar way of enjoying your Tom Yum; well you see my family takes Tom Yum with Yau Char Kwai (Chinese cruller). We simply dip it into the Tom Yum soup to let it soak up and then eats it. It is simply awesome when you take a bite at the soaked up Yau Char Kwai, the soup absorbed just explodes into your mouth.
It is just lovely to enjoy it on a cold night listening to "stick with you baby". (See I just can't seem to stop getting that song outta my head).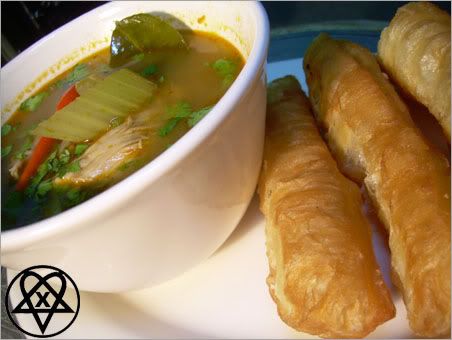 Anyways, gotta go before some nigga pops out of a trash can and caps me in the ass for insulting their rap music.