In my iPod: Stiff Upper Lip - AC/DC
[download]
State of mind: Sober
Location: Bangalore, India
I woke up from sleeping on the couch because I have an Indian beauty sleeping on my bed. As much as I wanna imagine her sleeping in sexy lingerie or just her birthday suit, I am sorry that isn't the case. So right about now, you are going to say that I am a butt fucking homo. But if you have read my previous post, you would have know why I didn't fuck her like all you pseudo straight vagina filled mindless sex mongers would usually do, I was merely thinking out of my dick. The sex principle of lais sez faire doesn't fucking apply to drunk person, and to affirm my action of not shoving my penis up her, I think any sane man would not have done it after you have seen the puke machine puke her fucking guts out. I was fucking there to carry her to the bath room, shove her face into the toilet and hold her hair up as she fucking vomits all that what was left of dinner. Oh yes, I was there when she had her dinner and I was there to see the dinner in reverse. She puke so much that I think she must have filled a toilet bowl.
So this has fucking turned out to be a great holiday huh? After doing the exact act of taking Aria out for the puke several times, I fell asleep on the fucking couch. Alright fine, I am not saying that I am that gentlemen but after seeing all that nasty things that were coming out of her mouth, she better get a nice bath or you'll have to fucking shoot me if you wanna make me sleep on the same bed with her.
But my ordeal hasn't ended yet, nothing beats the fucking cramp I had on my right leg, making my leap 50 feet high as I scream myself awake. Fuck man, it's been so long since I had a cramp and I forgot how insanely painful it fucking felt. It left me sore in the legs like a virgin pussy sore whose cherry got popped by a John Wayne with a huge dick.
Aria woke up with all her clothes still on and found me lying on the couch and it did made me look good. But if she was expecting some good night humping, it wasn't, but I think no one expects to get fuck when you are drunk right? So I was all good. She left that morning with the sweetest smile on her face and leaving me with the shittiest stench in the bathroom that I had to call housekeeping and went out for a late morning stroll around town.
At night, Aria the barf-a-nator came by to ask me out for Chai and we did some Chai in a fairly rundown yet traditional tea adobe. But the fucking Chai that they serve was fucking incredible. Aria wanted to thank me for taking care of her last night and also to say goodbye because she was heading back to Delhi for her brother's wedding. I guess I might not see her again. The night ended with a hug that comes with a peck on my cheek and no carnal knowledge.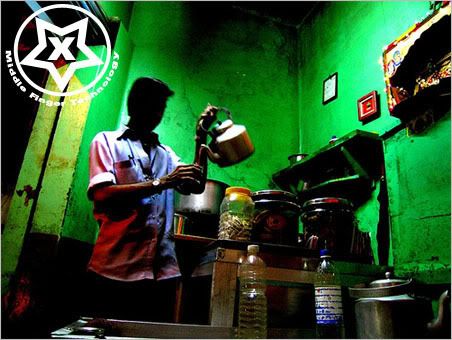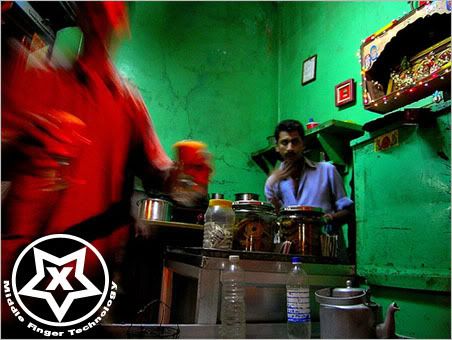 So I am sorry penis; looks like there's not going to be Indian on your menu after all.
p.s. you know staying in a hotel like this does have its perk. Wifi! Wifi! That is why you see me updating my blog more often. I have decided to go to Facebook rehab but it turns out that I just turned into a Twit-junkie instead. Been twittering 24/7 and look what creepy stuff you can get from Twitter…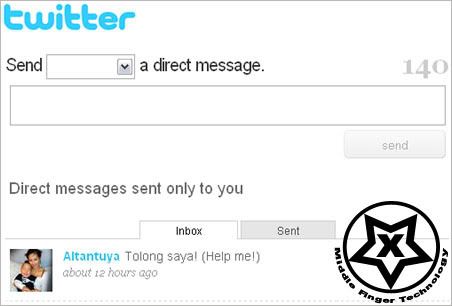 Damn, I thought she was blast to smithereens
p.s.s …and this marks my 525th post and 3rd year blogging, yayy!
p.s.s.s since I am on facebook rehab, all my pictures in India will be uploaded at real time, here:

7/6 Night Chai with Aria http://yfrog.com/5f10yj
7/6 Junk Food Heaven http://yfrog.com/6qcgej
8/7 They worship King Kong http://yfrog.com/bhjp8j

xniquet's journey across India