In my iPod:
I Have To Look Up Just To See Hell - Marilyn Manson
[download]
State of mind: Fallen
Location: Mumbai, India
As I looked at my own reflection in the mirror, I couldn't help but to stare at it reproachfully and spoke to it as if it was my malevolent twin. What the fuck have you gotten yourself into this time? Your face now is as coarse as sand papers that could easy grate through any Parmesan. It's as dry as the Gobi and your pores are huge as an oil well. What the fuck were you ever thinking coming to a place like this? What have you done to yourself this time? I looked hard into the eyes of my twin only to realize that it was once again my own reflection that is staring back at me.
After an almost 2 hours flight from Bangalore Airport, I landed in Mumbai with the shittiest headache. It could be the increasingly insane weather and poor air quality here. But that didn't stop me from going around the city because I was excited about being here. Mumbai or formerly Bombay - the largest city in India, second most populous city in the world; ranked seventh in the list of "Top Ten Cities for Billionaires"; Bollywood capital of the world and this is where Kamathipura is located – the oldest and second largest red light district in the world (the largest would be in Amsterdam). I am not trying to exaggerate but it is said that the concentration of hookers per square meter is so dense that it is impossible for off duty hookers to sit down. They would have to hang around the streets to solicit for potential perverts.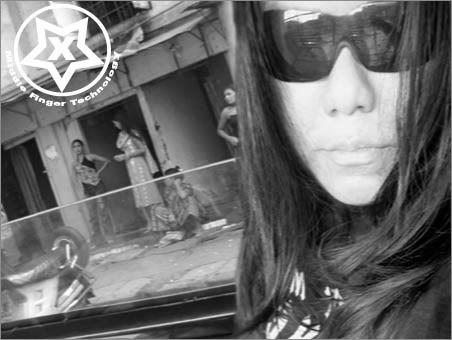 Just hours upon my arrival, I have already seen a few of them outside the streets waiting for foreigners like me to take the fucking bait.

Well, I am not afraid to tell you that visiting and understanding Kamathipura is the culmination of my trip here to Mumbai. But enough of Kamathipura for now because I think I have more pressing matters at hand.
I know I have said that India has taken its toll on me many many times. But I never thought that it would change me drastically. I've dropped 6kgs since I came here and now I am showing symptoms of tuberculosis infection. The chest pain and unceasing coughs has left me sleepless for the past 2 weeks and the last two days it has only got worse. The final straw was drawn when I started coughing up blood and I don't think I can ignore the fact that my health is seriously compromised. At least now after consulting a friend, I have acknowledge that my BCG shot might not be enough to save me from TB but then again it could just be a severe case of a lacerated windpipe; TB or not, let's just wait for the lab results before I jump into any conclusions that the earth and grave is waiting to eat me alive.
*Pout mouth alert!* Early lights out for me tonight, gotta get up early to get my X-ray done.

29/6 I'm Screwed

27/6 Leaving Bangalore
26/6 Curry and Beer

23/6 At the Hotel Gym
22/6 Curry Lobster

xniquet's journey across India