I have been reading and watching one too many books and movies on vampires these days, and in junction with the release of Manson's new CD, which is a vampire theme album. I came up with a Vampire Playlist. I know some of you wanna slap me silly but I don't care. Vampires are one of my favorite subjects.

Marilyn Manson/If I was Your Vampire
A six minutes epic of Manson's return, with the lyric - The heart is where the hole is
Concrete Blonde/Bloodletting (The Vampire Song)
Alternative rock band Concrete Blonde's song "Bloodletting (the Vampire Song)", the title track from the Bloodletting CD, is based on Anne Rice's The Vampire Lestat.
HIM/When Love and Death Embrace
Finnish's band - His Infernal Majesty's (HIM) dark yet melodic love song.
Marilyn Manson/Evidence
Manson's best song from his new album "Eat Me, Drink Me" which is an album about cannibal, consumption, obsessive, violent-sex, romance angle, but with an upbeat swing to it
Rob Zombie/Return of the Phantom Stranger
This is an eerie yet cool tune; love the beat on this song.
DMX Feat. Marilyn Manson/The Omen
Taken from Flesh of My Flesh Blood of My Blood CD, 1998 collaboration, I don't really like DMX's rap but Manson's rap in the chorus is pretty convincing, he could make it as a rap artist.
Rob Zombie/The Scorpion Sleeps
One of the better songs in Rob Zombie's Educated Horses, this song kind of reminds me of Marilyn Manson's Disposable Teen. Maybe it is because Marilyn Manson's Ex-guitarist John 5 is now on the rooster of Rob Zombie's band.
Jay Gordon/Slept So Long
This is my favorite song from the Queen of the Damned soundtrack. In the movie Lestat (Stuart Townsent) sang this song in the Death Valley concert. "I see hell in your eyes, makes me feel alive"
Vampires are mythological or folkloric beings that subsist on human and/or animal life force. In most cases, they are reanimated corpses who feed by draining and consuming the blood of living beings. Vampirism is the practice of drinking blood from a person or animal. In folklore and popular culture, the term refers to a belief that one can gain supernatural powers by drinking human blood. The historical practice of vampirism can generally be considered a more specific and less commonly occurring form of cannibalism. In zoology and botany, the term vampirism is used in reference to leeches, mosquitoes, mistletoe, vampire bats.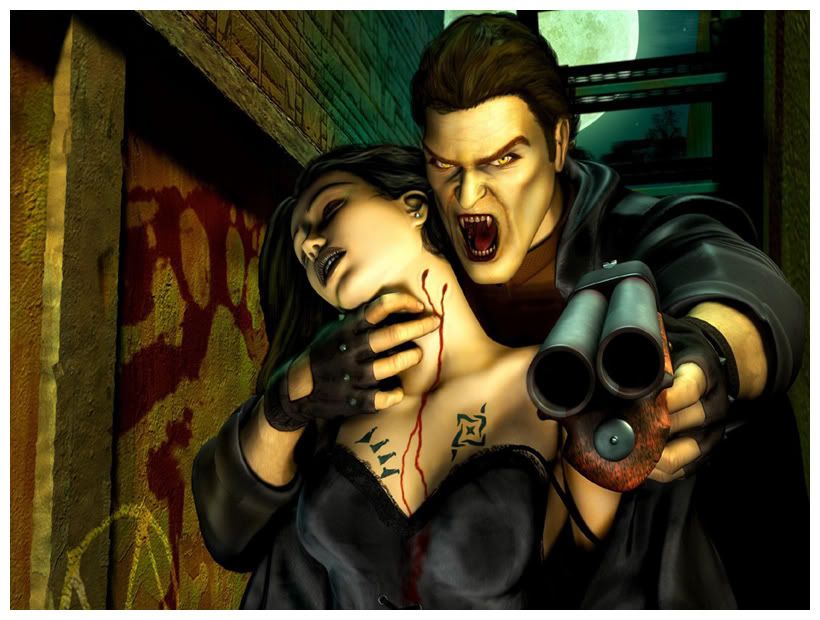 ...........................................................................................................................................................................
Everybody loves a good vampire story, from the ever famous Bram Stoker's Dracula to the 80s cult hit, Fright Night to The Chinese Jiang Shi 僵屍 movies Mr. Vampire to even our local Pontianak. It keeps people flooding the cinema. Usually the vampires are the bad guys but Anne Rice has created a world where vampires are viewed as beautiful predators. The readers finally understand how it feels to be a vampire. Her fiction is often described as lush and descriptive, and her characters' sexuality is fluid, often displaying homoerotic feelings towards each other. Rice said that the bisexuality was what she was looking for in her characters; a love beyond gender especially with the Vampire Chronicles because the vampires where not of human society, therefore did not go by the expectations of that society.
The Vampire Chronicles
-Interview with the Vampire (1976)
-The Vampire Lestat (1985)
-The Queen of the Damned (1988)
-The Tale of the Body Thief (1992)
-Memnoch the Devil (1995)
-The Vampire Armand (1998)
-Merrick (2000)
-Blood and Gold (2001)
-Blackwood Farm (2002)
-Blood Canticle (2003)
New Tales of the Vampires
-Pandora (1998)
-Vittorio the Vampire (1999) (I am currently here, I know it's been almost 8 years since the book have been published but I am slowly making my way down this list)
...........................................................................................................................................................................
My hardcover of Vittorio, The Vampire.
...........................................................................................................................................................................
"In 1450, Vittorio is a sixteen-year old nobleman and his family is murdered by a powerful and ancient coven of vampires. The image of his siblings' severed heads with eyes staring fixedly at him strike him permanently. Vittorio, however, escapes such a dreadful ending because of a vampire's intervention – Ursula. Vittorio plots his revenge against the vampires who are invading the lands and killing the innocents. With the help of his own angels, and a very powerful armor wearing angel, Mastema Ursula and Vittorio as an age old Bonnie and Clyde, killing and drinking until they had their fill."

I know there are tons of vampire movies and animation but here are a few of my vampire movies in my collection of VCDs and DVDs.

List of Movies:
Vampire in Brooklyn – Eddie Murphy, Angela Bassett
Bram Stoker's Dracula – Keanu Reeves, Gary Oldman, Winona Ryder
Tales from the Crypt's Bordello of Blood – Dennis Miller
Vampires – James Wood, Daniel Baldwin, Sheryl Lee aka Sherri Moon Zombie
From Dusk till Dawn – George Clooney, Quetin Taratino
Fright Night – William Ragsdale, Roddy McDowall
Fright Night II - William Ragsdale, Roddy McDowall
Wes Craven's Dracula 2000 – Jason Lee Miller, Gerard Butler
Horror of Dracula – Christopher Lee
Vampire Vs Vampire (Cantonese)
Mr. Vampire (Cantonese)
Les Vampires (B grade erotica)
The Erotica Rites of Countess Dracula (B grade erotica)
Blade – Wesley Snipes
Blade 2 – Wesley Snipes
Blade Trinity – Wesley Snipes
Dark Stalker (Animation)
Hellsing (Animation)
Van Helsing – Huge Jackman, Kate Beckinsale
The Twins Effect (Cantonese)
Stephen King's Rose Red – Nancy Travis
Queen of the Damned – Aaliyah, Stuart Townsent


Essential Vampire Movie list
Number 1#
Interview of the Vampire
Don't expect a human hero going on a hunt, driving stakes, stuffing garlic into vampire's mouth in this show but expect Louis the guilt- ridden vampire (Brad Pitt) going amok, setting vampires on fire while holding Death-like sickle slashing vampire into halves. Tom Cruise as the infamous Lestat, Antonio Banderas as the Vampire Armand (Oldest Vampire). This flick features an All-star like, Stephen Rae, Christian Slater and a very very young Kirsten Dunst. This motion picture also produced a good soundtrack which features Guns N' Roses cover of Rolling Stones' Sympathy for the Devil. Must have in your Vampire Collection, unfortunately I lost mine.

Number 2#
Blade
One of the major plots of the film was Blade has to prevent Frost (Stephen Dorff) from raising La Magra, the Vampire blood god, and causing a vampire apocalypse. When Frost successfully became La Magra, he gained certain powers, making him almost invincible. Each ability he gained were from the twelve pure bloods (Ashe, Cianteto, Dragonetti, Faustinas who held two seats, Ligaroo, Lemure, Kobejitsu, Lobishomen, Von Esper, Upier, and Pallintine) sacrificed in the ritual and Blade, who was only bled. Some of those abilities/attributes include:
· Far superior strength and speed from that of a regular vampire.
· Red, bulging eyes.
· Instant regeneration of lost limbs.
· Impervious to silver.
· The ability to walk during the day due to Blade's blood.
· Can instantly turn any human in his path into vampires. This comes to debate since Dr. Karen Jenson was in the same area where La Magra and Blade's battle took place and was not instantly turned, though it's a possibility that La Magra needs to concentrate his powers in order to make the turning possible. More likely, however, this may be a figure of speech describing the "unstoppability" of a scourge-like entity.
· Can control minds, matter and the elements
· Can shed his skin, turning into a ball of fire to methodically stalk his prey

Number 3#
From Dusk to Dawn
Script writer Quentin threw in everything he knew into this Vampire Opus. Fans of horror genre will get a kick when a pair of bank robbing brothers hook up with an ex-pastor's family on vacation and end up at a nightclub from Hell – The Titty Twisted. I love that bar!!!


Number 4#
The Queen of the Damned
Second film adaptation of the Vampire Chronicles came out in 2002. Starring Aaliyah as the Queen of the Damned and Stuart Townsend as the infamous Lestat, the movie combined incidents from the second and third books in the series but released under the title of the third book, The Queen of the Damned. The plot was substantially altered from that of the book, and the film was poorly received by fans and critics alike. This falls into my A list because it has a great soundtrack. All songs was inspired by movie written by Jonathan Davis (Korn) and Richard Gibbs. However Jonathan or Korn didn't perform any of the tracks. It featured guest vocals from a number of famous bands like, Wayne Static (Static-X), Marilyn Manson (Marilyn Manson), Chester Bennington (Linkin Park), Jay Gordon (Orgy), David Draiman(Disturbed.

Number 5#
Fright Night
A teenage is convinced that his neighbor is a vampire – and he is! He enlists the aid of an old former screen vampire hunter and the result is a screamingly funny horror spoof.

Vampire Movie Shit List
Wes Craven's Dracula 2000
Dracula has a daughter and his true identity is Judas Iscariot??WTF….
Tales from the Crypt's Bordello of Blood
I was so bored; I don't even know what the show was all about.
Bram Stoker's Dracula
Great cast but lousy screens play.
Van Helsing
Huge Jackson should have just stopped when he was getting better at portraying Wolverine. Bram Stoker would have slap The Dracula in this show for being so lame.
Blade Trinity
Apart from Hannibal King's (Ryan Reynolds) jokes about penises, the show is fucking lame

...........................................................................................................................................................................
For gamers besides movies and soundtrack, there is nothing like a workless afternoon in the office playing Konami's Classic - Castlevania to enhance my vampirism skill. After spending hours opening cans of whoop ass with my whip, I still haven't got the chance to whoop Dracula's ass. Darn it.

...........................................................................................................................................................................
I have officially joined
VampireFreaks.com
(a gothic version of Ahmoi.com). Here you can lead a double life being a vampire and occasionally meet some; a real untapped resource for meeting cute looking Japanese Goth chicks/Goth dudes or weird people from everywhere. You will be surprise with the amount of young gothic Malaysians who are listed here; I am trying to find out when their next death metal gathering. Satan Rules!!! Whee!!! Once you are in, don't forget to join a cult there, it ranges from almost anything, from animation, movies to rock bands. I for one have joined Manson's Legion in Marilyn Manson's cult and also since I am a fan of BLEACH, I have joined it too. Did I mention you can start your own cult too? I did, I am the proud owner of the BIKINI BOTTOM PARTY cult. A cult worshipping Sponge Bob Square Pants; so if you are there, don't forget to join my cult, I am pretty lonely there since I am the only member in this club. Me thinks, bunch of Vampires and Goth don't usually tune in Nickelodeon.