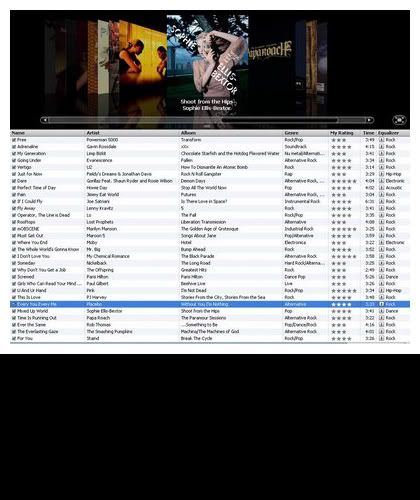 Powerman 500/Free
Gavin Rossdale/Gavin Rossdale
Limp Bizkit/My Generation
Evanescence/Going Under
U2/Vertigo
Fieldy's Dreams & Jonathan Davis/Just for Now
Gorillaz Feat. Shaun Ryder and Rosie Wilson/Dare
Howie Day/Perfect Time of Day
Jimmy Eat World/Pain
Joe Satriani/If I Could Fly
Lenny Kravitz/Fly Away
Lo/Operator, The Line is Dead
Lost Prophets/Rooftops
Marilyn Manson/mOBSCENE
Maroon 5/ Must Get Out
Moby/Where You End
Mr. Big/ The Whole World's Gonna Know
My Chemical Romance/I Don't Love You
Nickelback/Someday
The Offspring/Why Don't You Get a Job
Paris Hilton/Screwed
Paul Gilbert/Girls Who Can Read Your Mind
Pink/ U and Ur Hand
PJ Harvey/This is Love
Placebo/Every You Every Me
Sophie Ellis-Bextor/Mixed Up World
Papa Roach/Time is Running Out
Rob Thomas/Ever the Same
The Smashing Pumpkins/ The Everlasting Gaze
Staind/For You
Just a rough idea of songs that I packed into my iPod when I go Cross Country Cycling. This isn't meant for hardcore downhilling, if you are going for a downhill, I suggest you check out my downhill list. Here's a 30 song list for your cycling pleasure. Most of the songs are fun to sing along so that you won't get bored while pedaling your bike and also to keep your mind off the acid that is building up in your tights and the pain on your ass from long hours sitting on the saddle.

I love cross country cycling. Climbing steep hills, switching gears and coming down from it with the strong wind on your face. It's a great workout and you get to see the natural beauty that surrounds you. Here's some pictures that I have taken from my many trips across Kuantan while cycling.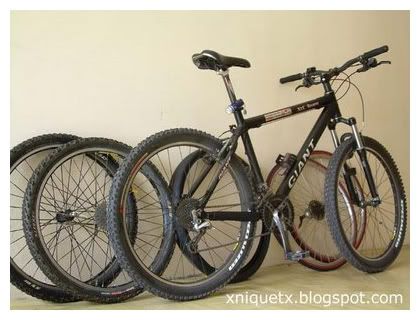 Choosing right set of wheels and tires is important. Here you will see my spanking new Specialized 3.75 inch Knobby tires. The wider the tires are, more grip but more workout. If you plan to hit the road for a easy ride, I suggest a 1.95 inch road tires will give you an edge in beating your buddies but you got to watch out for those rocks on the road.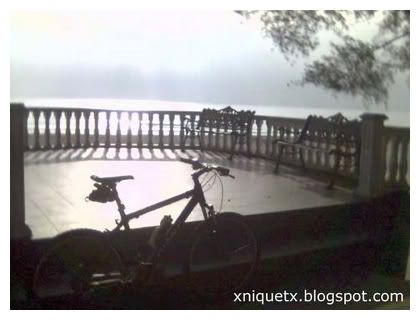 Early morning in Teluk Chempadek (TC) to watch the sun rise, but I didn't see any. But the "Nasi Lemak Sambal Kerang" at the end of the stalls is pretty good, so all is not lost.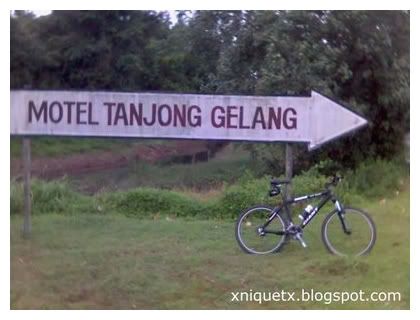 This was taken when I was on my way to Duta Sands to meet a bunch of Kite Surfers, I decided to take the off road trail but ended up at this cheap Motel instead.
A pillbox that I found along the way, I guess it was one of the shits that the British left here during their stay.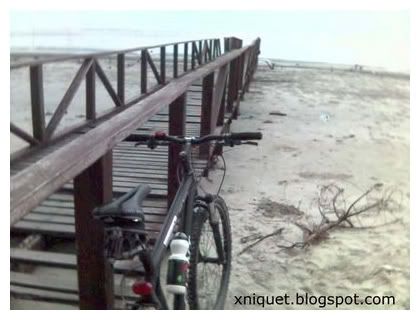 This is the half bridge to nowhere that the local authorities build. Those dipshit needed to justify the taxpayer's money, so they decided to build a bridge out to the South China Sea, what are they thinking? Trying to link Kuantan and Kuching?
At Duta Sands, a surfer's paradise; I got so carried away; I just threw my bike there. Lucky there wasn't any bike enthusiast, they are mostly surfers and they don't give a shit about bikes. So no one took my bike.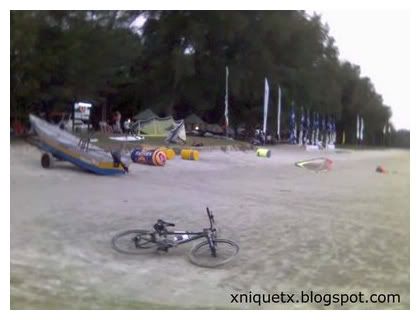 I tried taking the beach route home, but it didn't took me home, instead I ended up at a kampong, where I have to turned my ass back to Duta Sands again. This was taken at the dead end. No more beach, just sea and a huge ass tree in the middle of the beach…
As I reach Duta Sands, the sun was setting and it getting dark. I have been out since 3pm.
I just love this tree and the sun setting behind it. The shape of the tree reminds me of pubic hair. Wukakaka…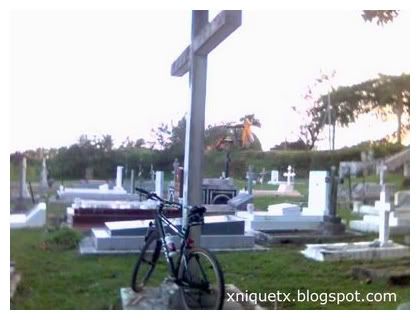 On my way back, I had to pass thru' a Catholic cemetery and I saw a huge ass crucifix tomb stone. I had to stop and take a picture of it.
X on Aftermath
"Cross country cycling is fun and a good cardio workout. Drink tons of water when you are going out cycling in the sun (get a CAMELBAK) and don't forget your sun screen. Sometimes, you'll get caught in many things when you are out there for hours. Rain is one thing. When you are in the middle of a jungle trail, rain not only makes you wet but dirty too. Rain water + Earth = MUD (Lots of them). Not to mentioned all the water going into your mouth and splashing on your back. But it is not all that bad. Getting mud all over your face and body is good for you :) Just treat it as a MUD bath at the SPA. It's a great exfoliating agent. When you get back just makes sure you clean them out thoroughly. If you have long hair, got easy on your hair when you are scratching them, those tiny grains of sand might be trapped in your hair. Have fun cycling!!! "