I enjoy getting a shave, but a lot of guys don't. Too many a times, guys just rushed into it and ended up with cuts and not a clean/close shave. I was one of them because I wouldn't give a rat's ass about it and I know nuts about grooming. But later on I discover the joy of it. I slowly take my time going about it step by step and a song list to accompany me. Please don't sing along when you are shaving, you might cut yourself. The basic things you need when you need to have a good clean shave are just shaving blades, foam and after shave. That is the most basic stuff you need, but along the years, I sort of like pick up a habit of using more and more products and items.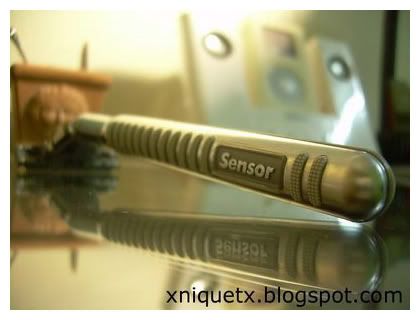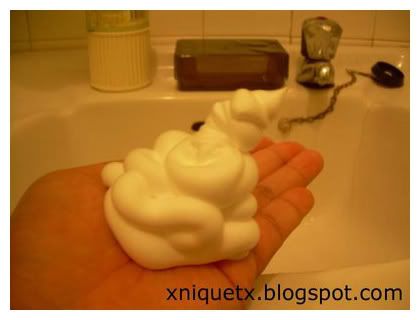 ONE. First and foremost before you shave, you must always clean your hands and apply some warm water on the area where you want to shave then you apply the shaving foam generously. A good substitute for shaving foam is olive oil. If you can't find foam, use oil instead. Start shaving.

TWO. After you are done with ONE, wash off the excess foam on your face and wipe your face dry with a clean towel. Then proceed to use the electric shaver. This is to give you a really close shave.

THREE. Once you are done with TWO, it is time to wash your face with a cleanser or if you want, use a facial scrub for exfoliation. Exfoliation works best after 8pm.

FOUR. Wipe your face dry with a clean towel; always use a fresh new towel. Then comes my favorite part, after shave; splash a generous amount on the area that you have just been through. I just love the cooling and stinging feeling when you apply it. Lastly, moisturize your face.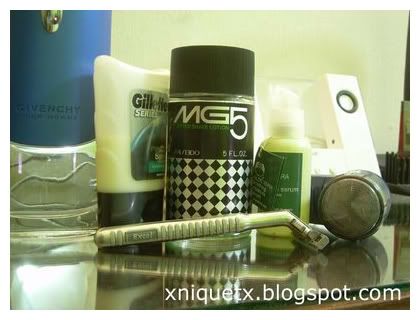 Left to Right: Givenchy Blue Label, Gillette Series After Shave Balm, Shiseido MG5 After Shave Lotion, Body Shop's Aloe Vera Soothing Moisture Serum

Givenchy Blue Label After Shave (RM89.00/100ml)
-If you are a fan of Givenchy Blue Label scent, this is the one to get.
Gillette Series after Shave Balm (RM13.90)
-Cheap and quite a good product. After you use this you need minimum moisturizing because it acts as a moisturizing too. I love the smell too. The only drawback, the cooling sensation doesn't last.
Shiseido's MG5 After Shave Lotion (RM20.00/150cc)
-Maximum chilling sensation and it is scentless too, for those who doesn't like after shave scent. This is the one for you.
Body's shop's Aloe Vera Soothing Moisture Serum. (RM49.90 -30ml)
- If you are not a fan of using moisturizers, let me recommend you Body's shop's product. This is one of the best things to use for sensitive skin. Usually I will use this serum first before I apply another layer of moisturizer; it makes your skin feeling fresh.



"I don't have a problem with growing facial hair but sometimes I feel fresher when I have a clean shave. I just love touching my freshly shaved face. Grooming isn't all about products and tools to help you look good, but it is also about discipline- remember 2 things: Hydration and Rest"