Since the beginning time, men have been trying like hell to get into the pants of women; but women being the fussy ones were trying to keep men out of her pants and only let in a few good ones in. Even though both men and women were created equally horny, but somehow, the men's penis always gets the best of them and women seems to have a built in "on" and "off" sex switch which they can use it at their disposal.

500 years ago, a group ancient monks of the east who was staying next to some hot nuns was sick and tired of jerking off and were trying like hell to get into the pants of nuns; you see most of these monks was sent by their parents into the monastery and did not on their freewill sworn to have a sexless life. And this was one of their motivations, to get laid with them hot nuns next door before they bite the dust. But the determination of the nun to keep their chastity intact was so strong that all attempts by these horny monks did not avail. So these monks introduced human body studies into their curriculum hoping to find a way to get laid with these nuns which made them really good physician only. But in the end, there was a exceptional monk who did not have any interested in studying how the body works but only had a dream of opening a body massage parlor found out that when God created women, He placed several sex chakra or button on the body of the women, so that when the sense of touch and pressure are given to these places, you are not only unleashing the inner beast and leaving her craving for the dick, tongue or something else (use your imagination) but you are also preparing her up for the ultimate orgasm rush. This is the first known documented instruction for foreplay known to men. No tongue, saliva or toys are required because it is an ancient Chinese acupressure massaging technique that only uses your thumb and palms to sex her up and breaking down all her sex resistance. Remember to warm your hands by rubbing them together and then make firm circles in these hot spots: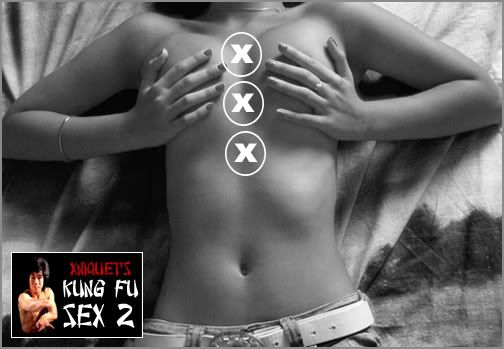 THE CENTER OF HER CHEST, AROUND HER BREAST BONE
This is to ease off all her anxiety and resistance to sex. It induces calm by "opening the heart"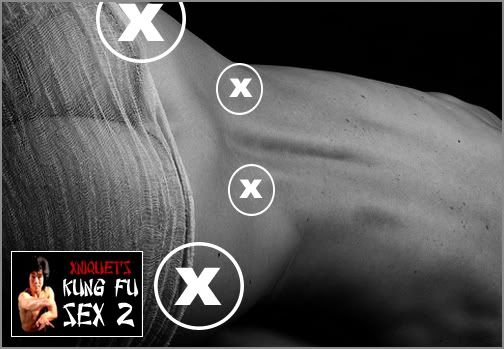 DOWN BOTH SIDES OF HER SPINES, TO HER LOWER BACK
Here you are directing warm energy from her upper body to her pelvis.
HER BELLY, FRO NAVEL DOWN TO HER PUBIC BONE
It is physical center of the body and ultimately critical to a person's sexual satisfaction.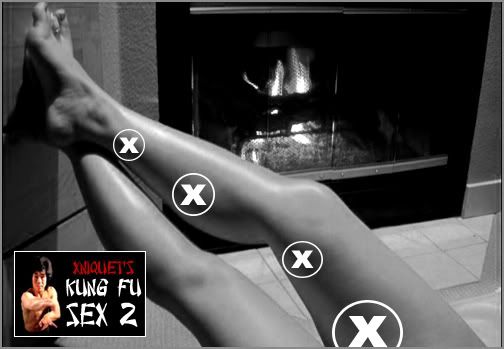 INNER LEGS, WORKING FROM ANKLE UP
Arouses the energy line that begins at the big toe ad moves up her leg and to her groin area.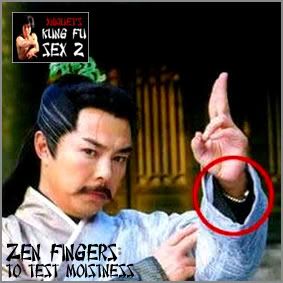 And your think breast grouping, vagina rubbing or pussy chowing would take you far, think again. Applying pressure to those offensives areas would only anger her when she is not in the mood. Trust me you wouldn't wanna rub a pussy the wrong way. But these spots may not be those areas where guys would usually go for; it would only make you appear to be giving her a relaxing massage but instead you are sexing her up by applying a little pressure to these spots that she can't resist and before the night is over you will be humping her like a wilder beast. If you are skeptical about the whole thing, you can always use the Zen fingers to check out the level of moistness that the above technique has gotten her. Remember when she is mad at you for some absurd reasons like forgetting anniversary or her birthday and uses her ultimate weapon – the no-sex-for-you strike, the above technique is the best counterstrike, when you are through with it she will be asking for more.