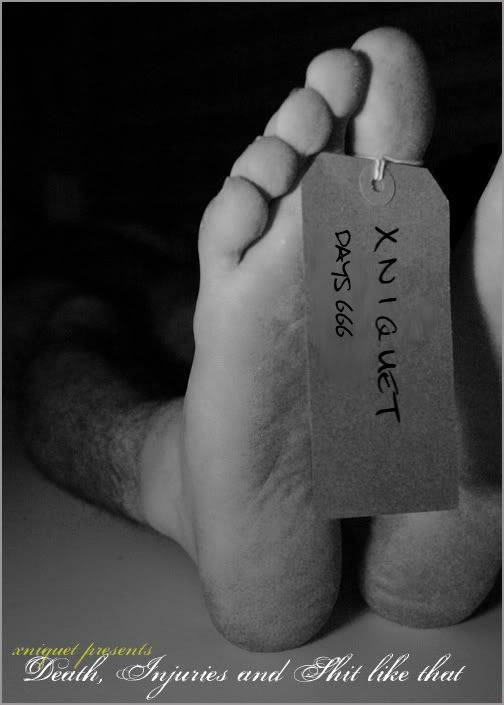 If the above is true, this wouldn't be me writing this wouldn't it? But a logical explanation to justify the above would be that I somehow, found my way back from the depths of Hades and blog about what fucking happened to me. But for the time being, let's just stick to the version that the above isn't real and let me tell you what fucking mess I got myself into again.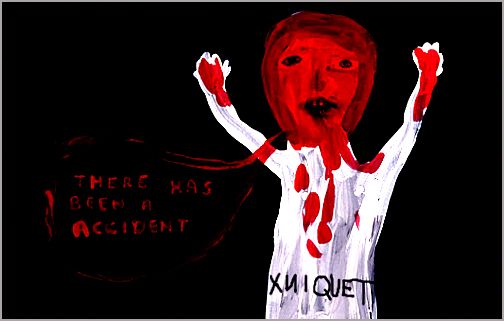 Firstly, I am proud to announce that this should be my 5th injury this year; I am getting better at this I think I had 3 last year. 4 minor injuries and 1 big one (broken feet) this year, am I good or am I good? You can't blame me because it has been raining like hell these days back here and accidents are prone to happened when you don't wear protection and it is wet, just look at Evie who gave birth to her first born after 9 months. (Wukakakaka! Okie, not funny, my bad) I know you must be thinking it is nothing to be proud; some of you might have be fond of collecting stuff that you like, well for me, you could say that I have fetish of collecting scars on my body. I wonder will it ever be consider as body art one of these days.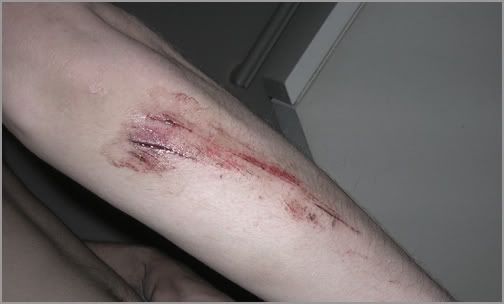 Look at this baby, I got this while one while trying to avoid a fucking tree on my downhill ride in the P Hill downhill ride. It wouldn't give me a good scar but it will just give me a good old sore arm for days. It ain't that bad because it is my left hand which is feeling the numb, I still have my good old right which allows me to move my mouse and also practice my one hand typing which is pretty useful when you are having cyber-sex (that is what I heard), don't look at me cause I am still a cyber-virgin. But the only thing sucky about having a sore left arm it that you can't play PS3 because it requires both of your thumbs, but there are always alternatives, I guess computer games are back in the menu again. this took place with my biking buddies...
Anyway, Lisa was pissed at me because I didn't wanna go shopping with her for clothes, I asked her to snap pictures of her in the dressing room with anything she plans to get and send it over to me, it would be like having me with her in the dressing room. But she told me, how on earth can she take her own picture in the dressing room? I have seen it done many many times by many many female bloggers, pointing at the mirror and snapping away. So how hard can it be? It isn't rocket science right? So I tried showing it to her how it was done but all my pictures turned out crap. So I give up and I will drag my lazy ass out to go shopping with her. I hereby salute all those who are able to camwhore flawlessly in the dressing room.