| | |
| --- | --- |
| | |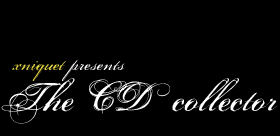 This is actually the many happenings that revolves around xniquet's life lately, so feel free to peak into my life and my senseless ramblings...


After reading
this post
, something gotta into me and it gave me the urge to take out my CDs and actually listen to it the conventional way using a CD player. For far too long have I been clicking on my iTunes library or my iPod, it was time to take out those things which once I call them my priced possession. Not to brag or anything but my collection of CDs was growing into a very respectable one and it was something which I like to flash it in my friend's face when they stopped by. But these days who the fuck would ever bother with whatever CDs you have got? Everything is going digital and most of the time the digital download of the CD is usually out first before the hardcopy of the CD is out. I am not talking about leakages but rather artistes like Radiohead and Nine Inch Nails who gave free full download of their LP on the internet that fucking puts the CD even in a worse situation.

I guess it isn't too late to confess that I have this super crushed on this long hair girl who works in Fantasy Music centre in the lower floor of Sunway Pyramid, I wonder if she is still there? She is the main reason I spent so much money there and also she is part of why I became so hook up to purchasing CDs too. Anyway, if you are still a vigorous and compulsive CD purchaser, please do not let this article make you think otherwise. Instead just take whatever that has been written in this post as utterly and completely non- sense and remember to stop by your favorite music shop (not Petaling Street but I doubt there is any there) and grab the latest copy of this CD - RM19.90 only. Very cheap, what are you waiting for? Go now.