Have you ever waked up at 3:01am in the morning and have an epiphany? Neither have I but it was some sort of a fucking urge to make Key Lime Pie. You must be thinking that at 3am in the morning with not a single shit ingredient in the kitchen, it ain't gonna happened. But sometimes I just marvel at how the human brain works, the fucking strong will of wanting to fucking make this fucking pie; I unconsciously in my sleep made up a fucking list of substitutes ingredient that I can get from the 7-11 store which was just a block away from my house. So I fucking got up, put on something and drove there.
As I was making the turn to 7-11, it occurred to me that it was getting awfully chilly at this time of the year. It didn't rain for days, and monsoon season was definitely over here in the east coast and I didn't even turn on the car's AC. But it was so chilly that it was making my nipples so hard that it could cut through glass. A fucking scary thought ran through my mind, what if it is a ghost or something? I read it from somewhere that when there is an evil presence near, the air would get chilly and cold. Alright, I didn't read it but I saw it in the Exorcist; Father Merin went into the Regan's room when she was possessed by an evil spirit. The fucking room suddenly turned blizzard cold and he was puffing smoke outta his fucking lungs. So that thought sorta slip and I reckon that I was in that fucked up situation and it sent chills down my fucking spine.
I pull over to the side of the fucking road, and then slowly reach for the rear view mirror. I didn't wanna make any sudden movement because we have seen it one too many times in horror movies, the fucker who makes sudden movements dies the most horrible death. So I slowly adjust the rear view mirror to look back at the rear passenger's seat. Nope, there weren't any apparitions, ghouls or zombies there. But it was getting even colder now; maybe they cast no reflection in the mirror like vampires in Bram Stoker's Dracula. So with a single motion, I turn back to have a look at the rear seat with my own two eyes, but in your brain you might wanna try imaging it like I am doing it a slow motion because it would be pretty cool, don't you think so?


There it was when I realized that I was wearing nothing but my boxers. I was topless and I only have a lime green boxer cover in blue patches in the shape of flowers on (think Patrick Star). Fuck it, I forgot to put on any clothes when I got out of the house and I didn't have any money on me. But I always carry some money in my car in case of emergency, so now all I have to do is check out who is on the graveyard shift at 7-11. If it was a guy, I am all good and I don't have to go home and change.
I guess my luck was changing after all because the cashier was a guy and I happened to know that fucker. So with both hands I pull the top of my boxer up to the level of my my belly button and then rushed in 7-11 grabbed all the stuff I needed to make the fucking pie, pay and leave. Who would have known that I managed to pull it off with only a boxer? With a big fat fucking grin on my face that runs from my left ear to my right ear, I drove home and get ready to bake.
As I went in my patio, suddenly I realized something. Motherfucker, they have CCTVs in all their outlets and I was on 7-11 TV. Fuck me man, I fucking hope that no low life geek that works in 7-11 would fucking post up a video in YouTube with a fucking title like this "Idiot wearing only boxers getting stuff in 7-11".
I am so messed up right now because I am on this no-sex strike thing and I am passing my 11th day without sex. But it seems to be disrupting my daily routine, I can't even update my blog properly that is why I have ask a
pretty looking ghost
to do so for me. None of my friend's thinks that I could get passed Chinese New Year without fucking anyone because they think I am a sex addict in the making and some of them think I am already one. But I am here to fucking prove to them I am wrong. Okay, wait, let me get this correct, prove them wrong. Just 3 more days to Chinese New Year and then another 15 more days of non vaginal penetration festivity for me and then I am so gonna rub it in their face for calling me a sex addict right after I fuck the first women I see. I wonder who would be that lucky girl when the clock strikes 12:01 after Chinese New Year? Tell you what, just to show you what a nice guy I am, I am not sparing you the details when I am through humping that lucky girl.
Anyway, for those who wonder how does a 7-11 Key Lime Pie look like and taste like, here's the recipe: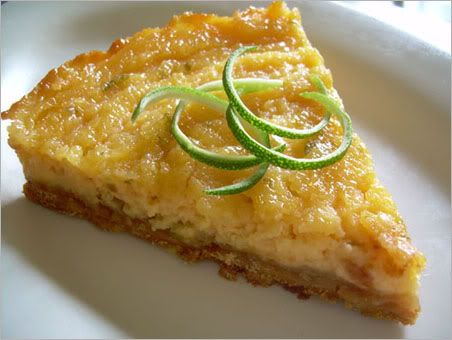 the xniquet-wiki articles for this post: 7-11 Key Lime Pie