| | |
| --- | --- |
| | |
We are told so many times not to judge a book by its cover but hey come on. Don't tell me these thoughts never cross your mind: when a hot girl looks at you for more than 15 seconds, she digs you; when you see a girl loading AA batteries into her shopping cart, she definitely owns a battery operated dildo; when a guy talks to you more than 10 minutes in a bar filled with hot chicks, he is gay; when you see a girl dressed in a super hot dress that exposes half her tits, she's a hooker; when your colleague's hot wife says to you, she wishes her husband could like you, she wants to have an affair; a girl with a mouth like Angelina Jolie gives good blow job; when a girl goes out with a older men, she must be a mistress; when you find out that a girl reads your friendster profile or facebook profile more than once, you have a stalker; when a girl wet her lips in front of you, she wants to blow you. I know it may seem absurd, but wild thoughts escapes us each time and sometimes it is outta our control. So you just couldn't blame me for thinking that I got a booty call when I got this SMS from Lisa in the middle of the night: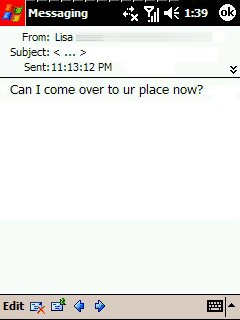 Then again, it could be just a distress call because her PC broke down and needed to finished up her work which is due tomorrow. Bummer, I guess here's to a night of cold shower.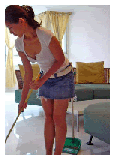 ...and another thing, please vote for
Bobo
in the upcoming Ping blog awards. She is nominated for
Most Entertaining Blog
and
Most Dramatic Post
.
After you voted for her, you can ask her to :
cook, clean, sweep, mop, wipe, scrub, wash,
brush, dig, water, plant, throw, clear, fix
and even
bend over and suck...
the floor with the vacuum.