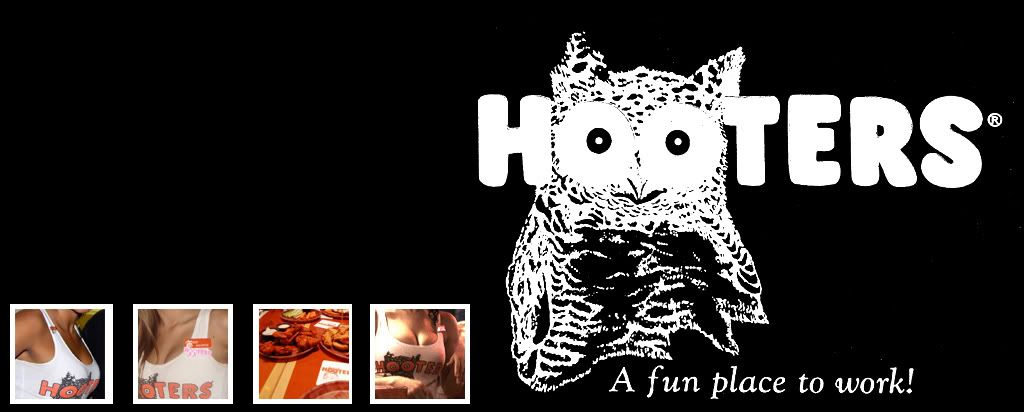 | | |
| --- | --- |
| | |










I still couldn't get through to Lisa, is the fucking Maxis line in Kuantan down or the whole fucking Malaysia? And I am still feeling like crap. I thought I could shake this feeling off by going to KFC. You know cheesey wedges and dinner plates used to work their magic on me and a bucket of KFC would simply put me in a euphoric state. But you know what it ain't working. I had mood poisoning the whole fucking day. The sound of the no connection tone is just killing me. Fuck…but you know what, a miracle happened at dinner. I never thought I said this but something other than KFC cured me of this blues and it has got a name. It is called HOOTERS. I can't really say anything about food because I forgotten how it tasted but I tell you the service here is superb. Hallelujah I am cured from my mood poisoning. Hooters have just made me a believer. I love Hooters

Dear Hooters God,
Please cum to Malaysia and serve us those yummy hot wings to us famished Malaysian guys and I sure hell hope you won't change that uniform policy. If our stupid government gives you trouble about your policies and code of dressing, slide RM50 under the table and tell them besides the uniform you will throw in a "tudung" (veil) for the Malay ladies who wants to be a Hooter girl. I know you want to spread joy to the people in Malaysia too right (particularly the guys)? I pray all these in the great big Hooters name.

In Hooter Girls I trust.
Amen
A Hooters Addict
For those who doesn't know what Hooters is:
Hooters is the trade name of two privately held American restaurant chains. Hooters targets male customers with a serving staff comprising only waitresses (Hooters Girl)
For those who doesn't know what Hooters Girls are:
A Hooters Girl is a waitress employed by the Hooters restaurant chain. They are instantly recognizable by their uniform of a white tank top with the Hooters owl logo and the location name on the front paired with the famously short orange runner's shorts. Originally, the shirts were white cotton, pulled tight and knotted in the back to emphasize the breasts.
Before becoming a Hooters Girl:
They are required to sign that they "acknowledge and affirm" the following:
-My job duties require I wear the designated Hooters Girl uniform.
-My job duties require that I interact with and entertain the customers.
-The Hooters concept is based on female sex appeal and the work environment is one in which joking and sexual innuendo based on female sex appeal is commonplace.
-I do not find my job duties, uniform requirements, or work environment to be offensive, intimidating, hostile, or unwelcome.
source: Wikipedia
and smoking guns