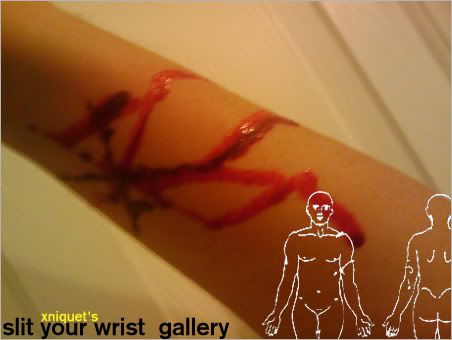 [click on the picture for the un-watermark version]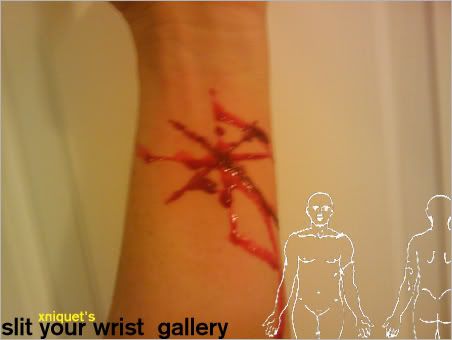 [click on the picture for the un-watermark version]
Send in by: Wendy Johnson
"How about this? I call it "Mariner's Compass - Wendy"

First and foremost I would like to thank Wendy Johnson for sending in this cool picture to be added into the Slit your Wrist Gallery - a cool combination of across the street and down the road cuts that would leave a wicked scar on her. I am sorry to the entry before this because I misplaced the email and therefore am in the fucking process of digging it up. Rest assured that I will be going thru all my emails to find it and it will be the next entry to this Slit Your Wrist Gallery. While the rest of you who have submitted, I will be putting your pictures soon enough.

To those who are wondering what the fuck is it that make these people do what they do? The answer is that it starts with pain, followed by hate, then fueled by the endless question that has no fucking one can answer, a fucking stain covers the heart and then it ripped you apart just like sleeping cancer. By the time you wonder what and how did it come to these, it is just too late because the little thorn in your heart has turned into a full grown vine filled with thorn encasing the heart, making you lose your feeling of the heart. These are my people; I know what they are going through because I am one of them. I don't just see blood and scar in these pictures but I see hurt, disappointment, hatred, angst …

On another note, this blog is in a transitional period but it would be taking a little longer than anticipated to complete the change because the night before I was Tyler Durden for 2 minutes. At least until I was hit with a cheap shot by a drunken Indian with a nigga knife (broken beer bottle). So I am pretty much busted up and am at the mercy of painkillers and whiskey. I haven't got much of the art work done yet, so I guess the "Morbid Tales of Romantic Cruci-fiction" era will just have to wait a little longer before it takes a crack at this blog.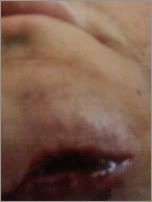 Nothing serious; no broken jaw but just a badly cut open chin with a lump of flesh missing that required stitches and also a swollen lip, thanks for asking. Oh, you didn't but just so you know. I have always dream of being in a fight but I didn't know that it would fucking hurt this much. Maybe I should start easy, like picking fights with the elderly or transvestite so that the chances of them get beaten up is more. I'll fill you in with the whole bar fight thing later. For now, it is time for me to indulge in some painkillers and to be more civilized, I am not going to wash it down with whiskey but a little yellow label 2005 Merlot. I fucking think it brings out the taste in painkillers. Don't you?
P.S. I know the fucking no sex strike is over but with my current condition, it would be a while before I go out and get me a top grade choice cut. I just don't feel comfortable fucking with a busted open chin.